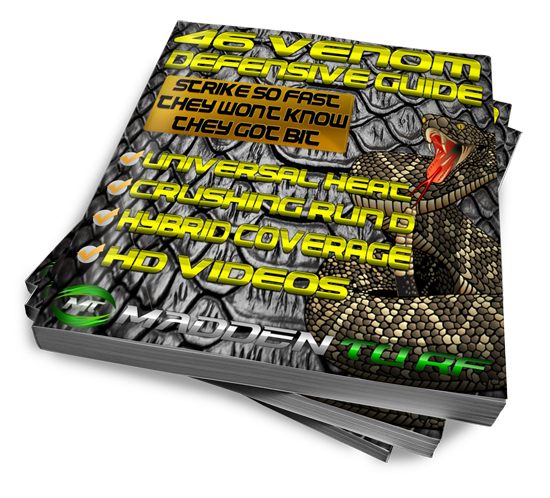 INTRODUCTION
Welcome to the 46 Venom Defensive Guide! One of the things that people struggle with very often is playing against someone that is able to defend the pass from a stacked box. The heavy box deters your opponent from running, but once they elect to pass, they are greeted either by an overwhelming blitz or everyone dropping into coverage underneath their routes.
This guide goes over the 46 defense in levels. We have the beginner level, the intermediate level, and the advanced level. To go with this we also have several trap coverages from Dollar and a few Dollar pressures as well. You will be given some of the best tools to lock up your opponent, and can select which are comfortable with to start out while growing into the other formations.
So let's jump into the 46 Venom Defensive Guide!
4-4 Split
Beginner Base Defense
The 4-4 Split Defense is the easiest defense to learn because it takes very little to stop most things. The blockshed can be intense all on its own, to send pressure requires very little effort, and we can lock up most of the runs in the game. The one run to be a bit aware of is Power O, as it will require a slightly different setup to stop.
This defense has been labeled as the "Beginner Base Defense" because of the ease of use, it is almost plug and play to an effective defense against most users. That being said, just as much as this defense will be hell for those not used to seeing it all game, for someone who has or someone that can swerve well, it can be fairly easy to pick apart.
46 Bear Under
Intermediate Base Defense
46 Bear Under is our Intermediate Base Defense. This formation offers us a true Cover 2 shell, and happens to be very effective against an opponent that is very pass heavy. We will have EXTREME versatility with our defense while only really dealing with one play. We will go over one way pressure, two way pressure, hybrid coverages, and a simple idea to contain shotgun run plays.
The reason that this defense has been labeled our "Intermediate Base Defense" is because while it is great against the pass, it can struggle heavily against the under center run game. Beyond that, the adjustments and setups are a bit more difficult than the 4-4 content as well.
46 Bear
Advanced Base Defense
46 Bear is one of those defenses that is incredibly difficult to run, but when ran correctly can be absolutely AMAZING! In this section we go over what is arguably the best run defense in the game (still, even though the video was recorded a while back), as well as some very intense blitzes that will leave your opponent unsure what they can do to block the scheme.
46 Bear does have a downside however, and that is why it is labeled as the "Advanced Base Defense". Bear does not offer any variation of a cover 2 defense which leaves us very open to being swerved. When sending pressure from the left we basically have to leave the field naked on that side, so being able to make great adjustments and play a good user defender are a MUST! Also, while the run defense we will be using will lock up 98% of the runs in the game, it requires you to play on a safety in a deep third, so you have to be able to recognize pass plays quickly and get back in your zone. This defense is NOT for the timid.
Dollar 3-2-6
Cover 2 Trap Scheme
Dollar is currently the Nation's defense. Almost every high level player uses some variation of DB Fire 2 Press. It is a great coverage defense, but as time goes on people are becoming more and more comfortable throwing against it, so below you will learn some variations of the coverage as well as a few passive pressure defenses that you can mix in with it to keep your opponent off balance.
Regardless which level base defense you are working with above, this is a formation that you will want to pair with it from the 46 Playbook, so learn this content as well, even if you are only really dealing with 4-4 Split content at the moment. Also, and this cannot be stressed enough, mix in the 2 Man Under Hybrid coverage. A lot of the time your opponent will read man at the snap and blindly throw a corner route directly to one of your clouds.